Company News
---
December 5, 2016
Cloverdale, IN (December 5, 2016)—
NALC, LLC ("NALC") today announced that it has completed the sale of its 243 Lime assets to Iowa Limestone Company, d/b/a ILC Resources ("ILC"), creating a market leading supplier of high calcium carbonate fine grind products to animal feed companies, glass manufacturers and the coal industry.  The transaction to acquire NALC's state of the art fine grind facility expands ILC's geographic reach east to allow it to better serve customers in a large and expanding market for its high quality products.  NALC's management team will continue to provide operational support to ILC as it grows its business.  The 243 Lime sale will bolster NALC's core quarry business.  NALC quarry will continue operating with the usual superior customer service and high quality products ranging from INDOT approved aggregate materials to construction grade crushed stone and specialty limestone products.
Greg Gould, NALC's President and Chief Executive Officer, said, "We are excited to sell our exceptional facility to ILC and assist operations as they expand sales and deliver the same high quality service our customers have come to expect.  Uniting our complementary assets and leveraging our expanded geographic footprint provides ILC with a larger platform for growth.  I look forward to working closely with ILC to ensure a seamless transition as they continue to deliver superior product offerings and service to customers."
About NALC, LLC
NALC is a privately owned company focused on leadership in aggregates and industrial minerals.  NALC sells INDOT approved aggregate materials, construction grade crushed stone products, and specialty limestone products.  
---
June 30, 2016
 Local Companies Awarded for New Production Facility
By Jared Jernagan
Banner Graphic Assistant Editor
CLOVERDALE — An effort to buy local on a 2015 building project garnered a nationwide award for two Putnam County companies.
H & L Enterprises of Marion Township and Midwest Calcium Carbonates (MCC) of Cloverdale were honored by Chief Buildings as one of the company's top new buildings of 2015.
General contractor Doug Lawson of H & L Enterprises, the local Chief dealer, recently presented the honorable mention award to Dana Boyd, co-owner of MCC.
The building in question is a 20,500-square foot facility that stands 50 feet high in the production area.
MCC is a division of North American Limestone Corp. (NALC), which also owns 243 Quarry and 243 Lime. These facilities all lie south of Putnamville on State Road 243.
In particular, MCC produces calcium carbonate industrial filler product that can be used in products such as plastics, sealant products, caulk, coatings, polymers, building products, rubber goods, paint formulas, adhesives, paper and household products.
Boyd said that after a year of production, they hope their product will be certified for use as an animal feed filler.
The building is a fine grind facility producing micron-size fillers from the limestone found in the area. The 180-acre property on which the building sits will eventually be occupied mainly by a limestone quarry.
It all marks quite a change from the agricultural field the area used to be.
"We took this from being a bean field to an operating facility in about 5-1/2 months," Boyd said, adding that the plant has been operational since November 2015.
One of the goals Boyd and co-owner Greg Gould had was to buy local as much as possible.
In that effort, they worked with Reelsville Water Authority and Endeavor Communications to extend utility services to the area. They also worked with Duke Energy to install LED lighting in the building.
They also made sure to hire Lawson and H & L, a Greencastle contractor.
"When I met with Dana and Greg they said use as local of people as you can," Lawson said. "As far as I know, except for a couple of doorknobs from China, everything came from the state of Indiana."
Local contractors on the job included Civil Engineering Consultants, The Gould Group/Mary Gould, Pipemasters Plumbing, Joe Custis Excavating, Perkins Service, Thomas Garage Door Sales Inc., A/M Glass Inc., Baker's Septic Service and Jack's Trash Service, all of Greencastle; Gehring Concrete and Joe Harrell Contracting of Cloverdale; and Swisher Plumbing of Coatesville.
Other in-state contractors were Alt & Witzig Engineering Inc. of Carmel, MC2/Greg Smith P.E. of Lafayette and Dyer Construction Co of America Inc. of Oaktown.
Greencastle-based Cash Concrete was also a major supplier in the project.
Lawson said the judges at Chief take size and complexity of a building into account when choosing the award winners.
"It's not overly complex, but it's also not a basic building," Lawson said.
One of the not-so-basic parts is the height, which is a new record for Lawson.
"Part of this is 500 feet tall," Lawson said. "It was on my bucket list to build something this tall."
Another factor that likely impressed the judges is that the structure is built for future changes and expansion. Although the production area is 100 feet by 100 feet, only about a 40-by-40 area is being used currently.
Even when this area is occupied, there is already infrastructure in place a 10,000-square foot production area expansion.
"We planned for expansion and growth but tried to be fiscally responsible up front," Boyd said.
The honorable mention award means the structure fell short of Building of the Year distinction from Chief, but still made the top 10 of more than 200 entries.
"It wasn't Building of the Year," Lawson said, "but it's knocking on the door."
Based in Grand Island, Neb., Chief has one of its two production facilities in Rensselaer. The company manufactures metal building systems for commercial and industrial applications to specific customer requirements. Local dealer H & L Enterprises can be reached at 765-246-6835.
Banner Graphic/Jared Jernagan
With the honored building at their back, contractor Doug Lawson of H & L Enterprises (left) presents an honorable mention award from Chief Buildings to Midwest Calcium Carbonates co-owner Dana Boyd. As an honorable mention building, the facility was judged to be one of the top 10 produced by Chief dealers in 2015.
---

January 2016 Pit and Quarry Magazine Cover Photo taken at NALC's Cloverdale Quarry.
Photo by Tom Hingst
---
NALC, LLC ("NALC") announces Joint Venture and Facility Purchase
Putnam County, IN, October 30, 2015:  NALC, LLC ("NALC" or the "Company") is pleased to announce it has entered into a joint venture with Alexander House for the development of an industrial minerals business based in Putnam County, Indiana.  The joint venture company, Midwest Calcium Carbonates, LLC ("MCC"), has constructed a new plant located on a portion of 350+ acres of high quality reserves controlled by NALC and is processing high calcium carbonate geology.  MCC's operations are strategically located to serve a wide variety of industrial minerals customers across the Midwest.  "I am very pleased to be partnering with the NALC team.  This joint venture has allowed us to develop a facility that can reach customers with a variety of applications across the Midwest" said Mr. House.
Concurrent with the MCC joint venture, NALC recently completed a successful buyout of a facility lease from Natural Resource Partners L. P.  In 2010, NRP provided a portion of the funding required by NALC for the construction of its first fine grind facility in Cloverdale, Indiana (Putnam County).  "Thanks to our strong underlying operations, we are happy to have bought out NRP.  Together with our MCC joint venture, NALC is now poised to grow its core business, while dramatically expanding its fine grind business with a well recognized industry leader like Mr. House" said Greg Gould CEO of NALC.
NALC is a privately owned company focused on leadership in aggregates and industrial minerals.
---

July 2015 Pit and Quarry Magazine Cover Photo taken at NALC's Cloverdale Quarry.
Photo by Tom Hingst
APRIL 23, 2015
NALC TO EXPAND LIMESTONE OPERATIONS
NALC LLC, a limestone and industrial minerals company, will invest $5+ million to establish a second limestone quarry and fine-grind facility in Cloverdale, Ind., one-half mile from its current 174-acre operations. Activity at the new 181-acre site will include the extraction and processing of high calcium carbonate limestone to be sold as an animal feed supplement, a fertilizer for agricultural purposes, an ingredient in the manufacturing of glass, a pollution control product for power plants, a safety application in underground coal mines and a filler for product manufacturing and other industrial applications.  Serving a diverse collection of industries, the company anticipates operations to begin at the new site by October.
---
July 2, 2014
NALC MANAGEMENT LED BUYOUT
The management team of NALC USA Corporation, wholly owned subsidiary of North American Limestone Corporation based in Toronto, Canada, is pleased to announce the buyout of the company's assets, effective July 1, 2014. The name of the new entity is NALC, LLC. Included with the management led buyout is the acquisition of all the quarry and fine grind assets located in Putnam County, Indiana near the town of Cloverdale. NALC, LLC controls more than 350 acres with over 80 million tons of high quality reserves.
The management team developed the greenfield quarry in 2008 and, to capitalize on the high calcium carbonate reserves and market opportunities, added the fine grind plant in early 2011. The company participates primarily in the energy, agricultural, retail and construction market segments. Just prior to the buyout, management announced the acquisition and rezoning of a large block of additional reserves, situated near the existing operations, complementing the already significant quantity of high calcium carbonate reserves base.
NALC, LLC is a private company focused on leadership in the aggregates and industrial minerals businesses.
---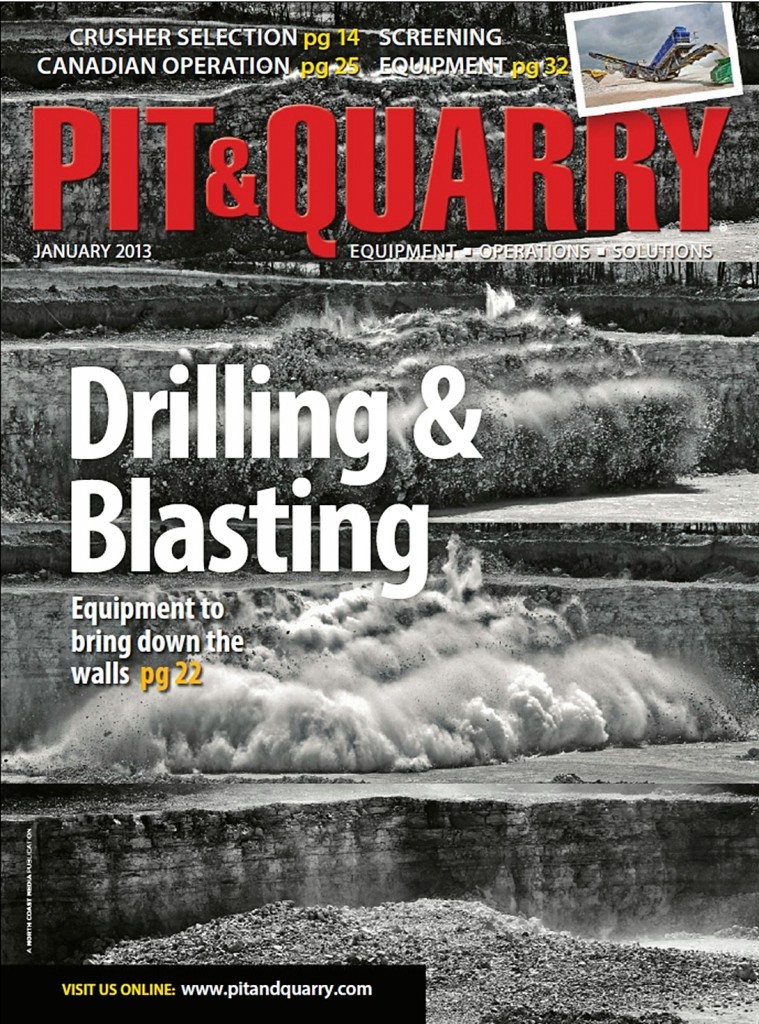 January 2013 Pit and Quarry Magazine Cover of Shot Sequence taken at NALC's Cloverdale Quarry. 
Photo by Tom Hingst